Lead generation of the ultra-wealthy – including high-end investors – takes a different approach than generating leads from the general consumer.
High-end investors are a specific audience that will respond to unique marketing and advertising tactics.
Here are 7 critical insights you must know to market to high-end investors…and how to get profit-boosting response from them.
Insight #1: Accredited investors are individuals who meet certain financial requirements.
An accredited investor is defined as one of the following:
"An individual (or married couple) whose (joint) net worth exceeds $1 million, excluding the value of the primary residence."
"An individual with income exceeding $200,000 in each of the two most recent years, or a married couple with joint income exceeding $300,000 for those years, and a reasonable expectation of the same income level in the current year."
There are 10 million U.S. households that qualify as accredited investors – making up 8.25% of all households.
Insight #2: Data is king.
I use the transactional data matrix (TDM) to target this specific audience and get a supercharged response.
The transactional data matrix (TDM) relies on thousands of points of transactional data – such as what an individual has purchased in the last 6 months, how much they spend on certain commodities and how they have invested their money – to model the "perfect prospect" for your campaign.
For high-end investors, this is a powerful marketing tool that can help you accurately and strategically target investors who will respond to your offer.
I also use postal names to target accredited investors with direct mail – creating a powerful foundation for an integrated marketing campaign, which you'll learn about next.
Insight #3: Take an integrated, multichannel marketing approach to get a high response from the ultra-wealthy and high-end investors.
An integrated, multichannel marketing approach means that you market to your audience across multiple channels – including direct mail, digital ads, pre-roll commercials, social media, video and more.
Your prospects will be more likely to respond to your offer when they see it again and again. For example, your high-end investor prospects will learn about your offer in your direct mail piece. Then they will receive your follow-up emails, see your digital ads and visit your landing page. This significantly increases response and conversion.
Insight #4: Offer high-end investors a "value-added piece" to build valuable relationship. 
Offering high-end investors an extra "bonus" gift or item builds valuable relationship.
This approach says that you're there to give to them, not to take from them.
Value-added marketing pieces can include special reports – such as the one shown below.
For high-end investors, this additional gesture creates trust and loyalty that can help convert leads into customers.
Or, value-added pieces might include a special item, such as a checklist. For Wine of the Month club, we offered prospects a discounted bottle of wine, cheese board and more.
Insight #5: Direct mail may be your "secret weapon" to targeting high-end investors.
It may sound old school, but direct mail is still one of the most powerful strategies to getting a high response.
Direct mail pieces – such as a 16-page magalog – can help explain offers that require more explanation. For example, I create magalogs for my investment newsletter clients, such as Independent Living.
Direct mail pieces can come in a variety of formats, including a magalog – a piece that looks and feels like a magazine, but is really a sales piece – or a newsalog, a bookalog or sales letter.
Insight #6: Make it personalized.
High-end investors are far more likely to respond to offers that are personalized to them.
For example, when I send out a direct mail piece, I use a special machine that "handwrites" the name and address of the prospect on the envelope.
It looks like this: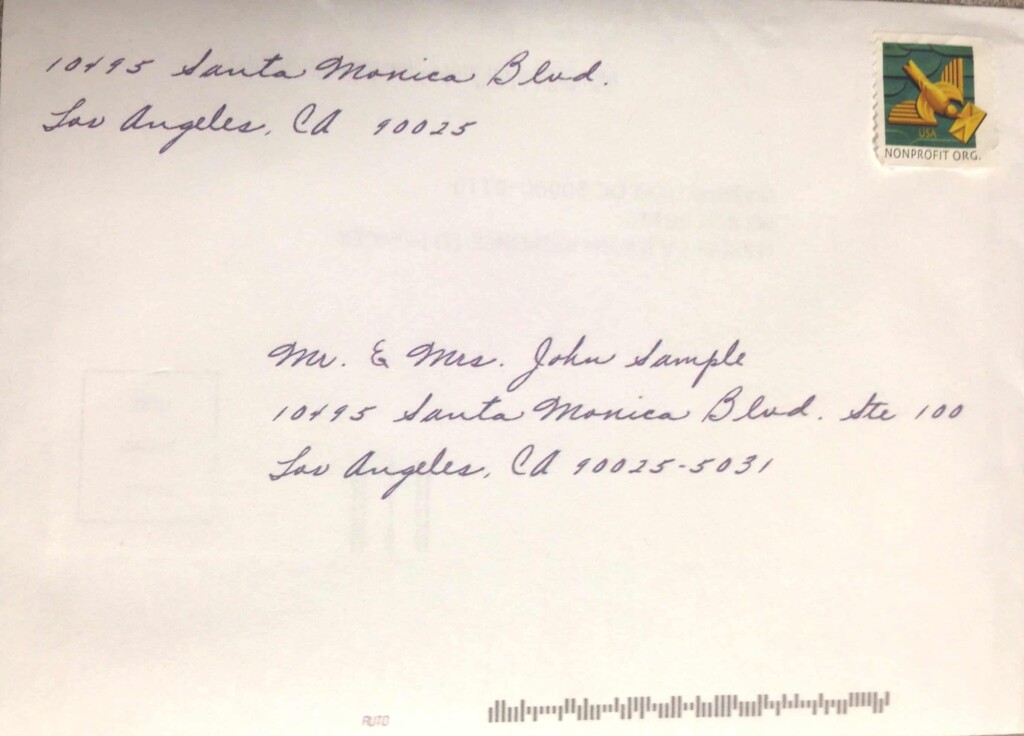 Insight #7: Send a videolog or 3-D package to make a powerful impression on high-end investors.
The videolog is the "next generation" in direct mail. This powerful new piece actually plays a live video of your offer on a screen inside a booklet or brochure. This makes an immediate impression on the high-end investor that supercharges response.
The only drawback is that videologs are expensive to create – but I anticipate that prices will drop soon.
Another alternative that makes a significant impact on high-end investors is the 3-D package. A 3-D package might include a number of pieces and elements that explain your offer and build powerful relationship with your prospects.
Click here to watch a video about 3-D packages.
For one gold mining client who was looking to attract investment professionals to purchase tickets to a special conference, I created a 3-D package that included:
A formal invitation letter (direct response copy) and RSVP card with contact information. …
An event itinerary styled as their international passport. …
A map of the location in the form of a "travel brochure." …
Colombian coffee, to reinforce the conference location.
And most crucially … a wooden treasure chest filled with chocolate gold coins and all the components described above.
This 3-D package received an amazing 48.9% response rate!
Like videologs, 3-D packages are more expensive to create and send, but they get incredible response.
They are ideal for busy prospects who are overloaded with great offers – like high-end investors.
If you're interested in learning more about supercharging response from high-end investors, I have written a new book that will give you additional, response-boosting insights to reaching this select audience.
It's everything you need to know about marketing to investors.
The book is called 23 Equity Crowdfunding Secrets to Raising Capital. It's also the world's first-ever guide to equity crowdfunding marketing under the JOBS Act.
In 23 Equity Crowdfunding Secrets to Raising Capital, you'll discover:
My #1 secret foundation to a marketing campaign that gets incredible response
6 powerful steps to creating a multi-channel, integrated marketing campaign
8 little-known prospecting tactics using look-a-like audiences
How to strategically target and retarget your "perfect prospects"
4 critical keys to marketing on Amazon … and why you can't afford not to use this revolutionary new marketing platform
8 innovative new Facebook strategies that you must use for effective results
Why testing your results may be the most important step you take in your marketing
And more…
And, for a limited time only, you can have 23 Equity Crowdfunding Secrets to Raising Capital for 20% off, when you order here.
Click here to order 23 Equity Crowdfunding Secrets to Raising Capital from Amazon. Don't forget to leave a review!
There's also a kindle version available.
Here are the rest of this week's articles: