Let me help you lift your response by seeing what I did for an award-winning campaign for Bespoke.
Bespoke is a CBD oil company that aims to reach the consumer market with their incredible, natural painkilling solution.
When they approached me, their challenge was advertising their high-quality, exceptionally pure product in a market newly saturated with cheap, low-quality CBD products.
So, I created a multichannel, integrated campaign for them that later won our 88th award – an award for a "B2C Campaign" from the Communicator Awards.
This award-winning campaign included the following:
#1: A valuable, information-based magalog
A magalog is basically an infomercial in print.
It gives your prospects valuable content that ultimately helps persuade them to respond "YES!" to your offer.
For Bespoke, I created a magalog with an attention-grabbing headline and powerful content that helps educate prospects on the exceptional benefits of using CBD for pain.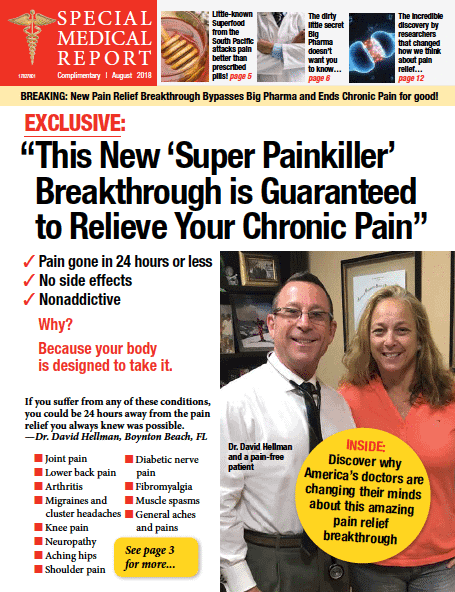 The magalog's spokesperson was Dr. David Hellman – telling readers about the miraculous science behind CBD … and how he's seen it work to kill extreme pain. 
#2: An integrated email series for response-boosting follow-up.
An integrated email series works with direct mail to boost overall response and reinforce the offer made in the mailing piece.
For Bespoke, magalog recipients received an integrated email series that created intrigue and curiosity and increased overall response.
Here's the first email they received: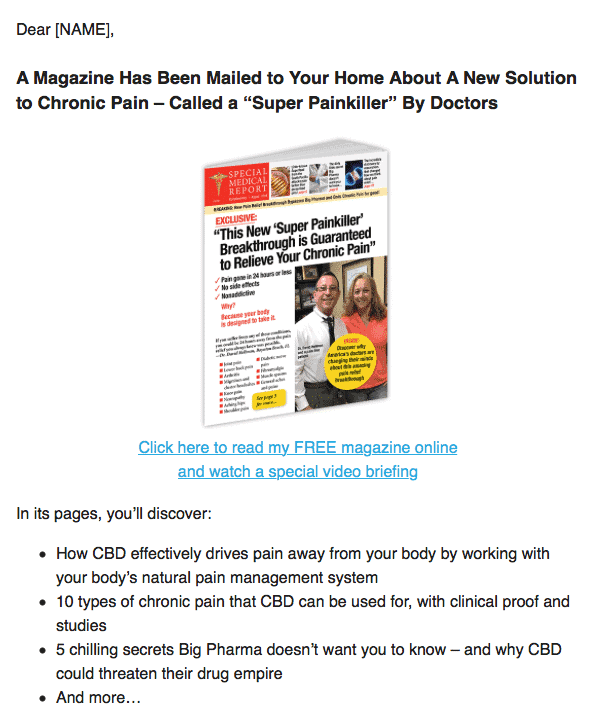 By getting the opportunity to see the magalog before it even arrived, prospects were more likely to look in their mailboxes for the direct mail piece…and read it straight through to the offer.
#3: A focused, powerful landing page with a single offer.
Corporate landing pages kill response. Instead, every multichannel, integrated campaign should have a landing page with a single, streamlined offer.
For Bespoke, we created a landing page with a powerful headline, video, and of course, the full offer.
Prospects were given "8 Amazing Reasons" that CBD works so well…and had to read to the bottom to discover all eight – and get a chance to purchase the product.
Here's the top of the landing page: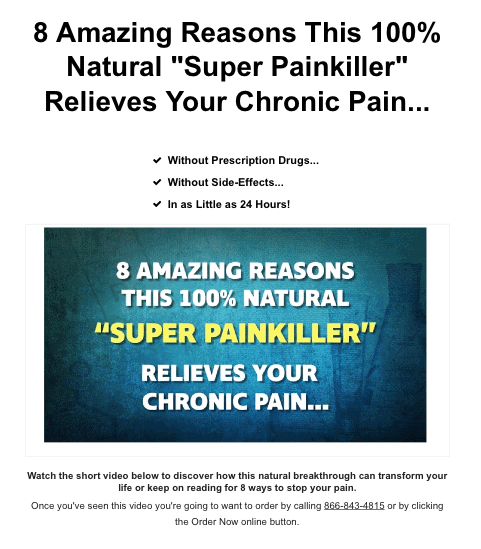 #4: Enticing lead generation ads that offered a powerful premium.
Digital ads can be used for lead generation, or as retargeting tools, to drive potential customers back to the landing page.
For Bespoke, we created a digital lead generation campaign with banner and native ads that offered prospects a free special report.
They simply had to click "Learn More" to get their free report on "10 Chronic Conditions You Can Treat Naturally" – and learn more about Bespoke's offer.
Here's a banner ad, below:
These ads boosted overall response and generated new leads that would then receive more of Bespoke's marketing materials.
#5: Google ads to draw curiosity and offer value. 
The same valuable premium was also offered to prospects through Google ads.
Like all of our assets, these ads used powerful direct response copy to immediately persuade prospects of the benefits and get them to click.
Prospects were then to driven back to the landing page, where they would read about Bespoke's full offer.
Bespoke's award-winning campaign helped generate new leads, increase traffic and most importantly, create new profits.
If you'd like to talk to me about creating your own award-winning marketing campaign with multichannel, integrated marketing, give me a call at (310)212-5727 or email Caleb at caleb@cdmginc.com.
Here are the rest of this week's articles: