With over 40 years of marketing to investors, I have developed several key strategies to reaching this select audience.
The first thing to know is that the foundation of an effective, accountable equity crowdfunding marketing campaign is to use integrated, multichannel marketing.
Integrated marketing sends all of your marketing materials to the same prospects. It doesn't waste your money or your time, and gives you the power to specifically target prospects who are most likely to respond to your offer.
Here are 15 key strategies to creating an integrated, multichannel campaign that gets incredible response from investors – and helps you raise the capital you need to see your business take off.
Deploy all materials to the same names.
An integrated, multichannel campaign sends all marketing materials to the same names.
This way, prospects will see the same message in their mailboxes, email inboxes, on their Facebook newsfeeds, before the videos they watch on YouTube, on Google and anywhere else they may visit on the internet. The message and wording remain consistent across every channel, and they link to a single landing page.
An integrated campaign gets a much higher response rate because it retargets investors over and over…and gives them multiple opportunities to respond to your offer.
The graphic below shows the elements of a typical integrated, multichannel marketing campaign we would create for a client:
As you can see, this strategy uses multiple pieces to drive a targeted, strategic campaign to the very same prospect…direct mail, banner ads, email, pre-roll ads, Facebook ads—all to the same names.
This is now possible because of….
Advanced Data Modeling.
Data modeling uses transactional data to build the "perfect prospect"—the person who is the most likely to purchase from you.
We use advanced data modeling strategies to profile investors based on their purchase history, their income, spending habits, their subscriptions, charitable giving and how much they spend on different items.
Here are examples of information we might use for advanced data modeling: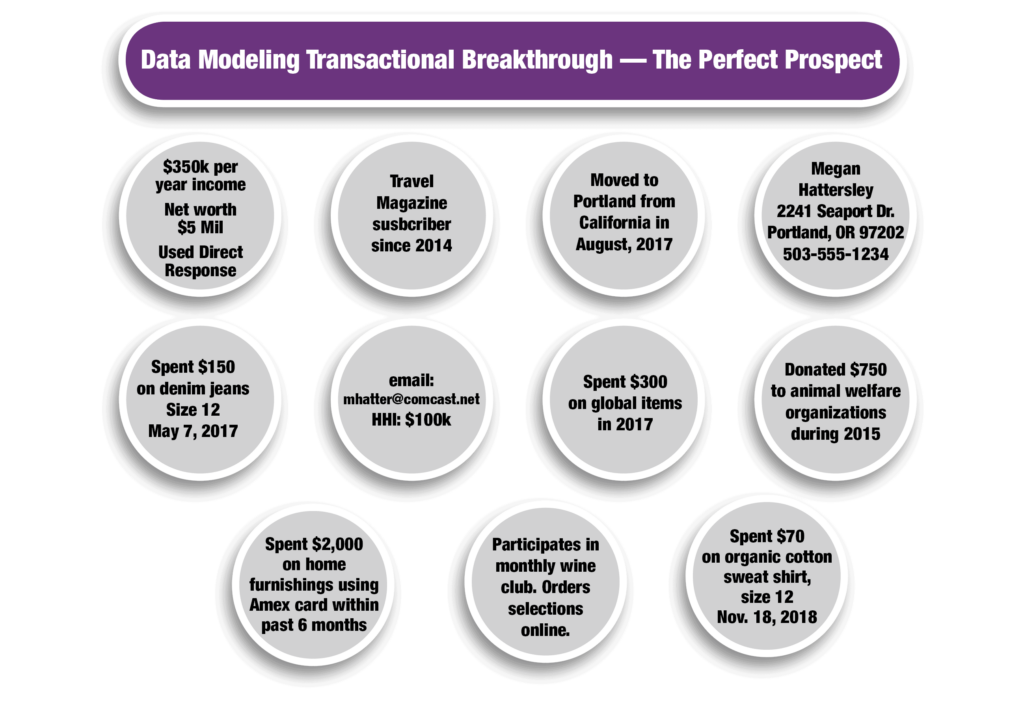 By using data modeling, we're able to target only the most powerful prospects for our clients—not the ones that will never respond, wasting time and money.
Direct Response Landing Pages.
Corporate websites depress response and distract visitors with multiple options and navigation distractions. Instead of relying on a traditional homepage for your investment opportunity, we create a specific landing page with one message and theme.
Here's a direct response landing page I created for my client Real Water: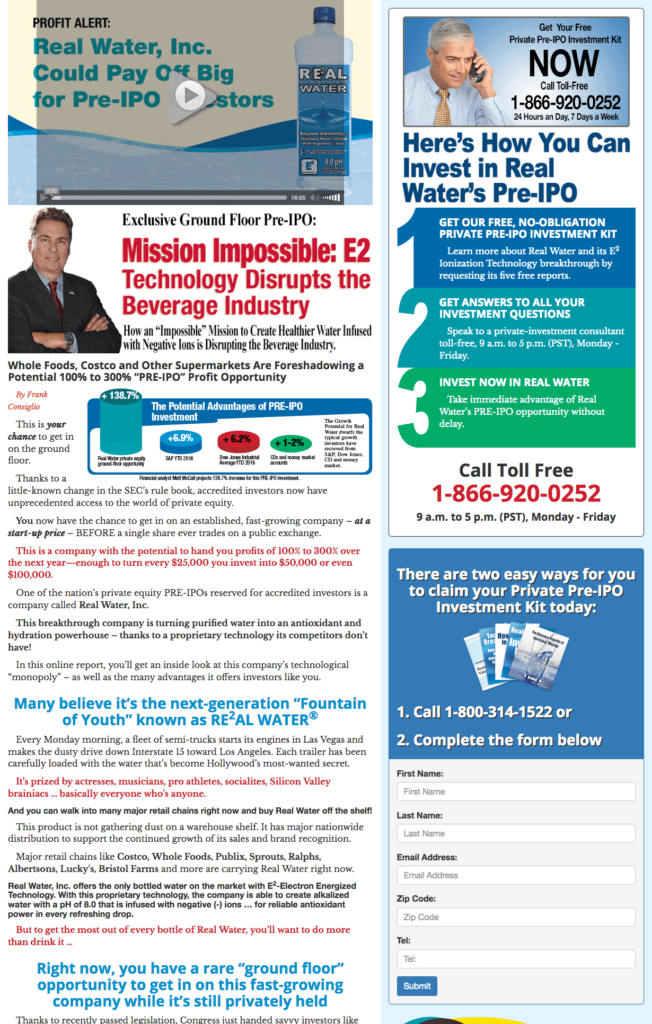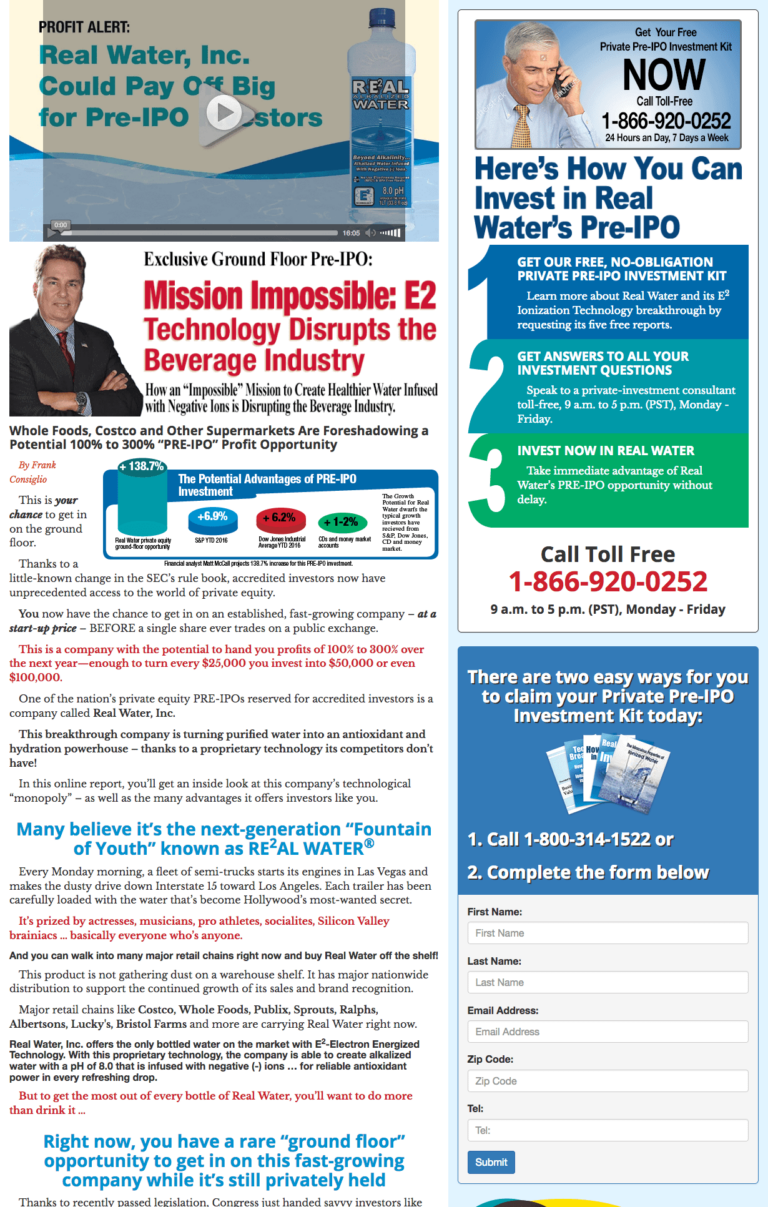 Landing pages should have a powerful and clear CTA (call-to-action), few or no navigation distractions and use direct response copy to drive prospects to make a purchase.
A Powerful Direct Response Video.
Using direct response copy techniques, we create a powerful direct response video for equity crowdfunding clients to use across all their digital channels.
We typically use a PowerPoint format, which raises response rates. Direct response video is used on the landing page and is also utilized as a tease in the email, Facebook ads and banner ads, increasing response rates.
Video helps increase reach and engagement on Facebook. And, video raises credibility and boosts response—even when it's not viewed.
Pre-roll Videos.
Pre-roll videos are the short "commercials" that you see before watching a video on YouTube, for example. They are typically 30-60 seconds. We create pre-roll videos for our clients using a powerful direct response script. They get incredible response from investors.
We use pre-roll videos to retarget leads, and to prospect new leads using look-a-like audiences and custom lists. Pre-rolls are an effective and growing marketing channel.
Direct Response Mail.
Direct response mail is still a highly effective way to get a great response from prospects. Direct mail can be finely targeted to the best prospects, because of strategic direct mail lists.
There are many formats for profitable, winning direct mail. One of our favorite direct mail pieces is the magalog.
The magalog is a direct mail piece that looks and feels like a magazine, but is really a sales piece. Magalogs are ideal for clients who have products or services that are more complex to describe, and require more information.
They get incredible response from recipients, boosting profits and powerfully reinforcing the integrated campaign.
The magalog we created for one equity crowdfunding client was 20 pages long.
See the cover, below.
Other direct mail includes envelope mailings and newsalogs, which look like a newspaper and feel like a newspaper, but are actually sales pieces.
Direct Response Email.
Email will help increase response, but it should never be relied on alone. That's why it's so powerful when used with an integrated, multichannel campaign.
Plaintext emails actually get a higher response than HTML-designed emails. They drive prospects to a powerful call-to-action and get a higher click-through.
For our clients, we create an email series that is targeted to the same names that receive the direct mail and other marketing materials. For example, a prospect receives an email before receiving the direct mail piece with a photo of what they can expect in the mail, and then another email after receiving the piece as a follow-up.
Take a look at this email that we created for an equity crowdfunding client:
Get in on the Ground Floor of This Private Investment Where You Partner With Me, the Stars and the Power of the Social/Mobile Explosion Ahead
Dear ________,
This is troubling to me.
I recently arranged for a free investor's magazine to be mailed to your home that reveals the details behind a remarkable new investment opportunity with myself and the stars with StarShop … the dynamic mobile shopping app that uses celebrities and videos to sell products.
And I've also e-mailed you with updates about this chance to tap into the rapidly-growing mobile app market.
But in spite of these attempts – and the growth potential for StarShop…
You still haven't claimed your FREE investor's toolkit.
… I understand – we are all busy with work and family.
But I know you'll regret missing out on this opportunity to "invest with a shark" – and stake your claim in a company withextraordinary growth potential.
View Your FREE, No-Obligation Investor's Report – Right Now!
Call 1-866-506-2720 to receive a free, no-obligation investor's kit today or talk to us about this exclusive private – not public – investment!
Direct Response Facebook Ads.
The same prospects who receive your direct mail pieces and emails also see targeted Facebook ads in their newsfeeds.
Facebook ads can be targeted to a custom list or look-a-like audience to reach an audience of prospects who are the most likely to respond to your offer.
Video gets a high response rate on Facebook, as well as ads that use "real" photos—not stock photos.
Here's a Facebook ad we created for an equity crowdfunding client:
Direct Response Banner Ads.
Your prospect sees the direct mail, email, Facebook ads…but that's not all.
By deploying banner ads to the same prospects, you'll increase response. Banner ads create more buzz and response using editorial-style copy. They should drive prospects back to the landing page and create anticipation for the direct mail piece.
Here's a banner ad we created for a client who was raising capital for his alkaline water company: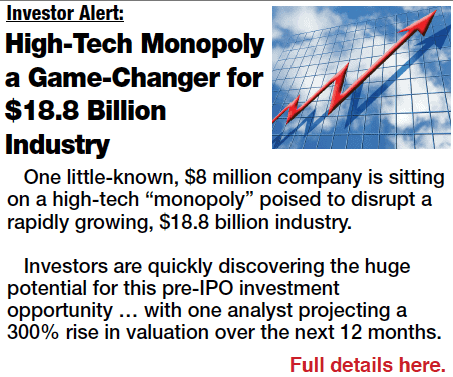 And one of the latest channels using the same names is….
Amazon Ads.
Amazon is a powerful new tool that can be used to successfully target investors and get a supercharged response.
We now create ad campaigns on Amazon using their powerful transactional data to serve targeted ads to prospects and existing customers.
This is powerful, because it relies on transactional data to target the customers who are most likely to purchase from you. With this tool, you can create a look-a-like audience, target customers who have already been to your website and find customers based on their lifestyle demographics.
Direct Response Retargeting.
An essential part of an integrated, multichannel campaign is retargeting or remarketing.
We retarget potential leads on Facebook, Amazon and Google with ads that "follow" prospects who have visited a client's landing page but have not responded to their offer. We do this by placing cookies on their landing page, that allow us to track leads around the internet.
Retargeting dramatically boosts response from investors.
Direct Response Copy.
Direct response copy is not traditional advertising copy. It is not journalistic copy. It is based on years of proven copy strategy that motivates a person to respond and overcome their objections. It identifies a powerful Unique Selling Proposition (USP) for your investment opportunity and strategic positioning and turns features into benefits to entice prospects to respond.
We use direct response copy in all elements of a direct response marketing campaign, including the landing page, direct mail, email and all digital ads.
Direct Response Art.
We also use direct response art to increase readership by using the science of eye-flow and time- tested tactics.
A Follow-Up Kit and Conversion Series.
A follow-up kit and conversion series are not to be overlooked in your equity crowdfunding campaign to the investor. They are critical steps that can dramatically boost response from investors leads and prospects.
A follow-up kit is a package that can include multiple pieces, including a sales letter, magalog and additional value-added pieces.
After leads and prospects receive a follow-up kit, they'll receive a conversion series – a series of emails, retargeting ads, pre-roll ads and postal letters that complement your previous pieces.
Test and analyze your results.
Do not skip testing. Testing is critical to an equity crowdfunding marketing campaign that gets accountable results.
Test all variables of your marketing campaign, including copy, graphics, subject lines, and all other variables.
When you see which variables get the best results, you can continue refining and improving your marketing materials to getting a lower cost-per-lead and lower cost-per-sale.
These 15 key strategies are critical to creating an effective integrated, multichannel campaign. They have been proven again and again, and produce amazing results for my equity crowdfunding clients.
In my new book, 23 Equity Crowdfunding Secrets to Raising Capital, you'll discover each of these strategies explained in even greater detail…plus 8 additional need-to-know tactics for a successful equity crowdfunding campaign.
23 Equity Crowdfunding Secrets to Raising Capital is the world's first-ever guide to equity crowdfunding under the JOBS Act … based on more than 40 years of experience marketing to investors and more than $1 billion in capital raised.
And, for a limited time only, you can have 23 Equity Crowdfunding Secrets to Raising Capital for 20% off, when you order here.
Click here to order 23 Equity Crowdfunding Secrets to Raising Capital from Amazon, to get a print or kindle version.
Here are the rest of this week's articles: